The No Recipe Cookbook
Saving Calories, Saving Money, Saving Time
Even when I'm stressed, exhausted and time-poor, I've had to find a way to get dinner on the table. Through efficient organisation and meal planning, and a repertoire of simple meals that don't require careful measuring of ingredients or complicated methods, I've developed a way of cooking that allows me to prepare a quick meal whenever I want it. At the end of the day, I have decision-fatigue. Trying to choose from a takeaway menu or waiting for a meal delivery when I'm 'hangry', is more stressful than preparing a simple meal. Planning ahead and shopping once every two weeks saves time and a home-prepared meal is only a fraction of the cost of eating out.

Teaching another surgeon to operate requires breaking down a complicated and stressful task into simple components. By applying these skills to cooking, I have developed a method of cooking and meal planning to entice the reluctant cook into the kitchen.
There are no glossy pictures of beautifully presented meals in this book to intimidate you. Meals are flexible to allow substitutions and variations in ingredients and amounts. Experimenting and making mistakes is okay.
Educate a woman to cook and you feed a family.
Give a man a meal and he's happy. Teach a man to cook and the whole family's happy.
Children shouldn't leave home without knowing how to cook. Or worse, they won't leave home if they can't cook.
Available at online retailers. Links in BUY Button.
Purchase on Amazon.
I love to hear your success stories. Please leave a review; Amazon, Goodreads.

Watch - Book Trailer Video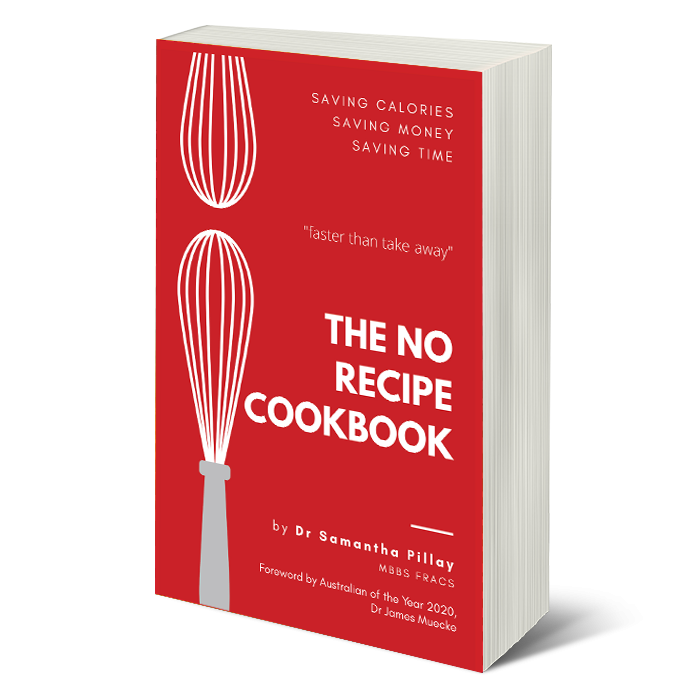 Foreword
Dr James Muecke AM

MBBS (Hons) FRANZCO
Australian of the Year 2020, Ophthalmologist, Chairman Sight For All
"A healthy diet is something that's very important to me. In my 30-year career as an ophthalmologist, I've seen firsthand the damage wrought by type 2 diabetes. The disease is the leading cause of blindness in working-age adult Australians. Diabetic retinopathy, a diabetes complication that affects the eyes, has no symptoms in the early stages and, if it's not treated in time, can cause complete and irreversible blindness.

Type 2 diabetes is almost entirely preventable and yet the disease now affects close to one in ten Australians. Obesity is a major risk factor for the disease and one of the main ways it can be prevented, and even reversed, is through diet. As a nation, our consumption of sugar, refined carbs and junk food is way too high. We need to cut down on sweet ultra-processed foods and get back to buying fresh, unprocessed ingredients and cooking our own food. Any initiatives that encourage the eating of real food, such as this book, should be promoted and celebrated.
As Dr Samantha Pillay points out, cooking your own food means you know exactly what's gone into it – there are no hidden sugars or other nasty surprises. You have total control.
In my medical career, I've seen so many people who simply lack the tools they need to lead a healthy lifestyle. This book will give you some of these tools.
If you don't know how to cook or just want to limit the amount of unhealthy takeaway food you eat, The No Recipe Cookbook could be the help you need to change your life. Dr Pillay's simple, straightforward method is easy to follow and will have you eager to get into the kitchen and start experimenting. Most of her meal ideas really are faster than ordering a takeaway and they're definitely healthier.
If this book can help even a handful of people to start cooking for themselves, it will be a step in the right direction. Let's all get into the kitchen and start taking back control over what we eat.
Your health is in your hands."
Testimonials
Nina Kurth
Technologist and Business Advisor, Amazon Web Services, New York City, Co-Chair, Advisory Board, The Finnish Cultural Institute in New York
"While all this time cooking at home can be wonderful for some, it can be daunting and stressful, especially for all of us that are balancing busy work and life. Perfection is not the goal in the kitchen, but sustainability and satisfaction are. Everyone has a right for good and nutritious food. This is a perfect cookbook for nomads, trailblazers, dreamers, explorers, and visionaries — some quick hacks, bold ideas
(a cookbook with no recipes!), and a few bigger ideas that challenge how we can think about food."



Prof Helen E O'Connell
FRACS, MD, MMed, MBBS, FAICD
Head of Urology, Western Health, Melbourne, Professor, Department of Surgery, The University of Melbourne
"You want something done; you ask a busy person. This no-nonsense guide to wholesome cooking has been devised by the busiest person around, single mum and urological surgeon, Dr Samantha Pillay.

Written for the busy person who wants to enjoy the simple pleasure of eating with loved ones, Dr Pillay adheres to the principles of raising children with good dietary health and sociability, as well as having children contribute to the meal itself and learning important life skills. The techniques in this book are simple and versatile which, if you follow, I guarantee the results come dinner time."
Themis Chryssidis
M Nutr & Diet, B Psych, Cert IV PT
Managing Director, Sprout Food Group, Accredited Practising Dietitian
"As a restaurant owner and cookbook author, I understand the importance of cooking and eating well. Basic cooking skills and the perceptions of individuals around their own cooking ability are major barriers to most people living a healthy lifestyle. The No Recipe Cookbook is built on the same understanding. Unlike many cookbooks, it doesn't just tell you what to do, but it explains why and how. This is fundamental to a sustainable healthy lifestyle. Healthy eating, sound nutrition knowledge, and a positive food culture are key to a healthy population and have the ability to significantly reduce the burden on our healthcare system. This book gives individuals and families the skills and knowledge they need to live a healthy life without strict rules and in a non-pretentious, relatable tone."

Chris Bray
FCA, CA SMSF Specialist, CTA
Director, Bray Chan Chartered Accountants
"Warning: this is not your average cookbook! Not just for inexperienced cooks and those who simply don't like cooking, but also those who like the idea of halving their weekly food budget and shifting toward healthier eating. Dr Samantha Pillay has cleverly bundled her planning wisdom into an accessible, no-nonsense companion to help you learn some essential life skills. The positive effect on the family budget will have your financial adviser singing your praises!"