Into the Light
Illuminate Festival Adelaide South Australia 2023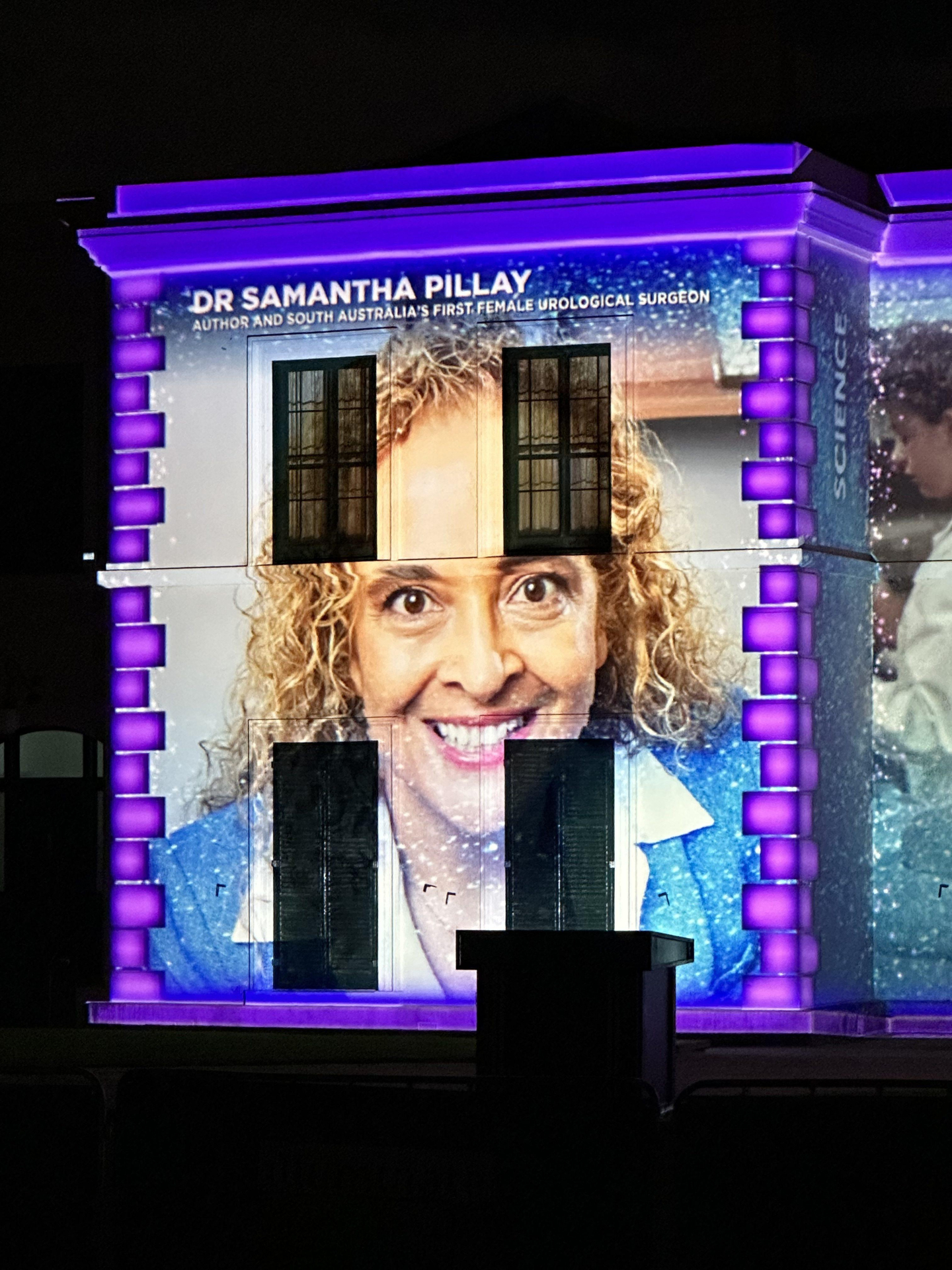 Thank you to SA Governor, Her Excellency the Honourable Frances Adamson, for her vision for the Into the Light project for the Illuminate Adelaide immersive winter festival.
Below (scroll down) is the 4-minute documentary highlighting 60 inspirational South Australian women as projected onto SA's Government House façade. Twelve women were chosen from each of five key sectors of public life/politics, science, social impact, sport, and arts & culture, and I was honoured to be included.
Congratulations to Shalom Almond -documentary maker, Sam Wright - Illuminate producer, Katrina Lucas - producer, The Electric Canvas team, and others who brought this project to life.
The full list of women;
Science
1. TANYA MONRO, Physicist and Australia's Chief Defence Scientist
2. ROSA FIVEASH, Botanical and natural history illustrator
3. MARIA MAKRIDES, Professor of Human Nutrition
4. NELLY HOOPER LUDBROOK, Geologist/palaeontologist, first female president of the Royal Society of SA
5. SAMANTHA PILLAY, Author and South Australia's first female urological surgeon
6. ANITA NEDOSYKO, Marine biologist and conservation campaigner
7. BARBARA HARDY AO, Scientist and environmental advocate
8. KATHERINE BENNELL-PEGG, Australia's first female astronaut
9. EDITH EMILY DORNWELL, Australia's first female science graduate
10. REBECCA RICHARDS, Anthropologist and first-ever Aboriginal Rhodes Scholar
11. JIAWEN LI, Inventor and biomedical engineer
12. PHIALA SHANAHAN, youngest ever Professor of Physics at MIT

Sport
1. MOYA DODD, First woman to join the governing body of FIFA
2. MARJORIE JACKSON NELSON AC, First Australian woman to win Olympic gold and break a world record in athletics.
3. CHRISTINA VITHOULKAS, Drift Car Racer and disability advocate
4. MICHELLE DEN DEKKER OAM, Netballer who represented Australia in 84 tests, 71 as Captain
5. JULIET HASLAM OAM, Field hockey payer and two-time Olympic gold medalist
6. RACHEL SPORN OAM, Basketballer and three-time Olympic medallist
7. FAITH THOMAS AM, Cricketer and the first Indigenous woman to represent Australia in any sport
8. ALICIA MOLIK, Tennis player and Olympic medalist who reached no 8 in the world
9. GLYNIS NUNN OAM, first-ever Olympic champion heptathlete
10. TANYA HOSCH, first Aboriginal person appointed to the AFL executive
11. ERIN PHILLIPS OAM, Basketballer/footballer, winner of 2 x WNBA championships and 3 x AFLW premierships
12. ANNA MEARES OAM, Track cyclist and two-time Olympic gold medalist

Arts & Culture
1. ELSY WAMEYO, Kenyan/Australian singer, rapper and producer
2. NORA HEYSEN AM, Painter and the first ever female winner of the Archibald Prize
3. NATASHA WANGANEEN, First Nations actress, filmmaker and activist
4. MEM FOX AM, Children's book author and advocate for literacy
5. POH LING YEOW, Malaysian/Australian cook, artist and TV presenter
6. ELIZABETH CAMERON DALMAN OAM, Choreographer and founding artist director of Australian Dance Theatre
7. ROBYN ARCHER OAM, Cabaret performer, artistic director, and advocate for the arts
8. BECCY COLE OAM, Multi-award winning country music artist
9. MAGGIE BEER AO, Chef, author and gourmet food manufacturer
10. LOTTIE LYELL, Actress, filmmaker and Australia's first film star
11. SIA FURLER, Internationally acclaimed ARIA-awarded singer, songwriter and producer
12. MALI ISABEL, Painter and Adelaide Fringe Festival's first-ever Aboriginal poster artist

Public Life
1. FRANCES ADAMSON AC, Governor of South Australia, first female Secretary of DFAT
2. RUBY HAMMOND, first Aboriginal South Australian to seek election to Federal Parliament
3. PENNY WONG, Senator and Minister for Foreign Affairs, Australia's first female openly LGBTI+ politician
4. CATHERINE HELEN SPENCE, Australia's first-ever female political candidate
5. JULIA GILLARD AC, Australia's first and only female Prime Minister
6. ROMA MITCHELL AC, Australia's first female Supreme Court Judge and first female Governor of SA
7. MURIEL MATTERS, Leader in the suffragist movement
8. LOWITJA O'DONOGHUE AC, Leader in Indigenous Affairs and 1984 Australian of the Year
9. GLADYS ELPHICK, Activist and founding President of the Council of Aboriginal Women SA
10. JOYCE STEELE, The first woman to be elected in SA and the first to achieve cabinet rank
11. JULIE BISHOP, Former MP and Australia's first female Minister for Foreign Affairs
12. SARAH HANSON-YOUNG, Senator and the youngest woman ever to be elected to the Australian federal parliament

Social Impact
1. NANCY BATES, First Nations singer-songwriter and social activist
2. GILL HICKS, Author and advocate for peace
3. HELEN CALDICOTT, Physician, author and anti-nuclear advocate
4. SANDRA MILLER, Indigenous health advocate, 2023 SA Senior Australian of the Year
5. FELICITY BROWN, South Australia's first female chief pilot
6. SHIRLEY PEISLEY AM, Indigenous rights campaigner and Reconciliation SA Ambassador
7. TARYN BRUMFITT, Body positivity advocate, 2023 Australian of the year
8. JULIA FARR, Founder of SA's first home for people with disabilities
9. ISOBEL MARSHALL, Social entrepreneur, 2021 Young Australian of the Year
10. KATE COCKS, South Australia's first-ever policewoman
11. LYNETTE CROCKER, Kaurna elder, lawyer and Aboriginal rights activist
12. GLADYS SYM CHOON, The first woman to incorporate a business in South Australia